hanoi tourist attractions - In people's thoughts, touring in Hanoi means visiting ancient streets, watching water puppetry, visiting Ho Chi Minh Mausoleum and the Museum of Ethnology. The itinerary has not changed over the last many years.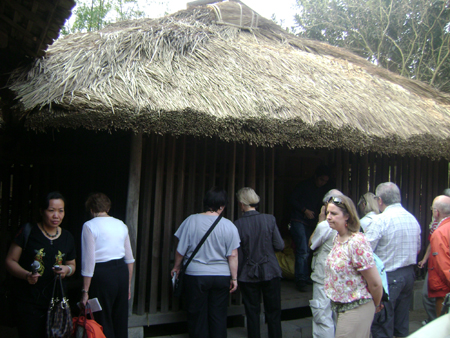 Foreign tourists visit
the Museum of Ethnology
It is estimated that 40 percent of travelers only stay in Hanoi as a transit point before leaving for other tourism sites.
Having dinner, watching water puppetry, and that's all
When asked about the tourism products of Hanoi, a tour guide said: "having dinner, watching water puppetry and then… going to bed," meaning that travelers have nothing to do in the city because of the lack of entertainment activities.
Nguyen Anh Tuan, Deputy Director of the Travel Department under the Vietnam National Administration of Tourism (VNAT), also said that travelers to Hanoi never stay there for more than two days, because they do not know where to go on the third and subsequent days.
The problem is that Hanoi still does not have attractive tourism products, while there are very few entertainment complexes in the capital city. Hanoi once attracted a huge number of travelers who came to attend the 1000th anniversary of the city establishment. However, the number of tourists to the city has been decreasing after the important event.
Hanoi proves to be unprofessional in developing tourism industry. In July, local residents in Bat Trang porcelain craft village threw stones into the coach carrying a group of tourists, who visited a shop here but did not buy anything. The information has raised the wave of indignation from the community.
Pham Trung Luong, Deputy Head of the Vietnam Tourism Development Research Institute, also said that the revenue brought by the tourism industry in Hanoi proves to be too low if compared with the city's great potentials.
The Co Loa historical site, programmed as a national tourism site, has not developed significantly over the last 10 years. It is because the city's authorities still do not have reasonable policies to attract investor to the field.
Under the tourism development strategy, Hanoi, HCM City, Hue and Da Nang are considered the key tourism centers of the north, south and the central region. While the southern and the central regions' key centers have been developing well, Hanoi has not made any considerable progress in tourism development.
To date, Hanoi has been known as the tourism transit center, from which tourists flow to other localities in the country, rather than a country's key tourism center.
"Hanoi takes pride of its 5000 historical relics, but how many of them have been put into tourism services?" questioned Vu The Binh, Chair of the Vietnam Travel Association.
"Hanoi is rich in natural resources, but it is not rich in tourism products," he continued.
Hanoi urged to move ahead
"In order to become a key tourism center, Hanoi needs to organize impressive tourism events," Binh said.
In fact, Hanoi organized a lot of events in the pasts, but it did not organize international tourism events or international trade fairs which could attract big travel firms in the world.
"It is necessary to build up tourism events in order to brand Hanoi's tourism. We cannot repeat the "chorus" that Hanoi is the 1000-year old city. It is necessary to have new products to attract travelers. They need to enjoy and go shopping," Binh stressed.
Meanwhile, Tuan from VNAT said that Hanoi needs to make a breakthrough in developing tourism. The city needs to develop tourism products targeting to three different groups of clients – foreigners traveling to Hanoi, foreign expats and domestic travelers.
With the great potentials, Hanoi should strive to receive 2 million foreign tourists by 2012, instead of 2015 as previously planned.